Information on Millersburg
Millersburg is full of wonderful shops and excellent dining choices. It's part of a scenic byway and is home to a few museums including the Victorian House Museum and Millersburg Glass Museum & Visitors Center.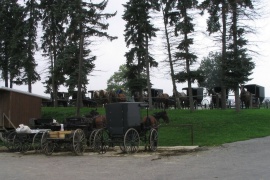 Millersburg is a beautiful place, but if you wanted to go somewhere more scenic you could visit the Hocking Hills in Ohio. The Hocking Hills are surrounded by state parks and forests. There are plenty of activities to do including: hiking, fishing, rock climbing, zip lining, horseback riding, camping, atv riding, and canoeing. For more information on the area and where to stay, visit Hockinghills.com.
A Brief History
In 1824, Charles Miller and Adam Johnson surveyed the town. The town became the county seat the following year.

The town grew slowly, having only 673 residents by 1840. In 1844, a fire erupted in the town, destroying much of Millersburg. In 1846, the village contained four churches, two newspaper offices, thirteen stores, one iron foundry, and one grist mill.

Over the next forty years, Millersburg's population tripled in size, having a population of 1,814 people in 1880. The town consisted of two newspaper offices, seven churches, two banks, and several additional manufacturing businesses.

The town's largest employer was Henry Snyder, a tile manufacturer, who employed twelve workers. Most businesses provided materials to farmers in the surrounding countryside or processed the farmers' crops. The same remains true today.

In 2000, Millersburg's population was 3,326 people, making it the sixth largest urban center in Holmes County.

Some more information on Millersburg can be found at the following websites:
HistoricDowntownMillersburg.com


MillersburgOhio.com